GoldMine CRM
Use the latest information in your GoldMine database to send and manage email campaigns without the need to upload your data anywhere else. IntelliClick For GoldMine provides a simple way to send your email campaign messages to your target audience and it is compatible with GoldMine Corporate and Premium Editions (version 7 and beyond). For those using other email service providers, IntelliClick offers integration between GoldMine and 
Constant Contact
®
, iContact® or MailChimp®
. This provides you with an option to use these services to prepare and send your campaigns while having tracked information added directly to your GoldMine system in real time!
A special web site navigation script adds to the power of your campaigns, whether they are sent directly from GoldMine or other service providers. Benefit from the "digital body language" to prioritize recipient interests in each of your campaigns. The Top Leads By Campaign report helps your sales team focus on the best opportunities. Results appear immediately in GoldMine under a special 
CLICKTRACK
 tab. Details of each tracking type include the campaign name, date & time and person who took action. If you store multiple contacs per account, each individual's results will be tracked to their name.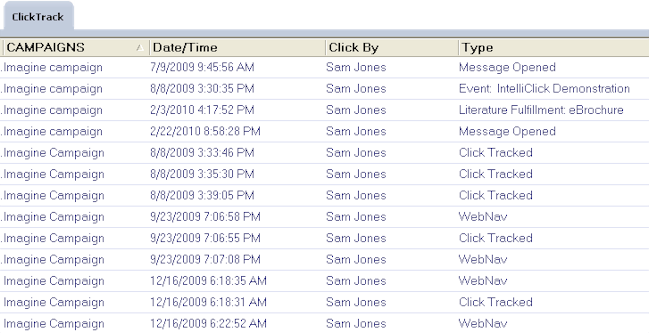 ---
Any CRM/ERP System
IntelliClick offers a very 
cost effective, B2B email and web site marketing solution for Non-GoldMine users
.  Use information from your preferred contact source to send interactive email marketing campaigns. Leverage instant alerts and person specific web site browsing details to get meaningful insights into their purchase interests. Virtually any ERP, accounting, CRM, spreadsheet or other address book applications such as Outlook can be used as your list source. No need to upload your data, so it is always securely stored within your system. Use any exported fields to personalize your messages. Create your HTML messages with any tool you choose.  If you don't already have preferred HTML editor, we will provide a simple drag and drop editor that creates mobile and email client optimized templates with ease. Reporting is available on demand, or automatically delivered by email at time intervals and to the recipients you designate.
Pricing for IntelliClick Any Source Version: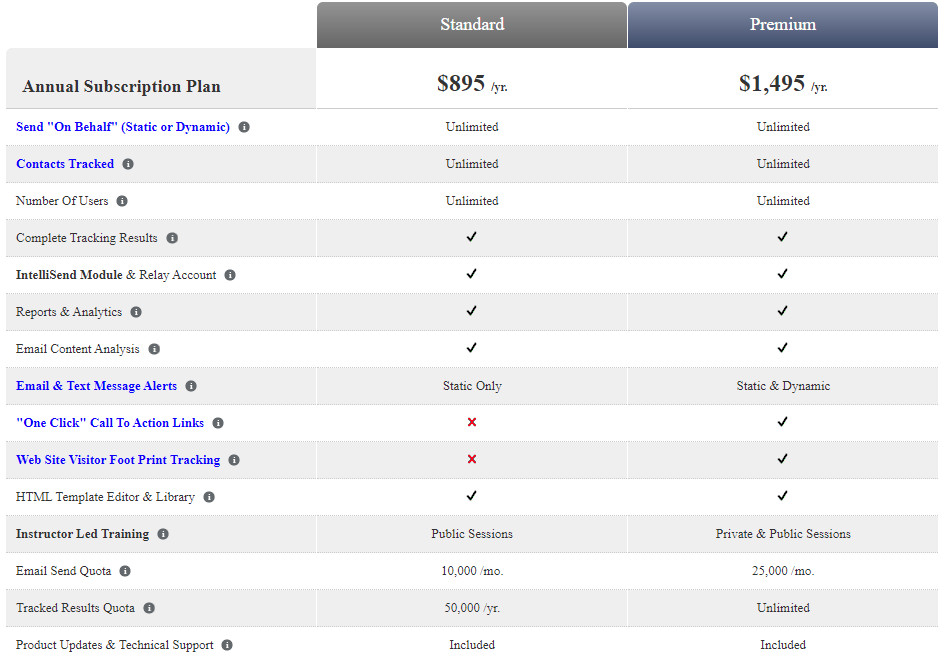 The IntelliSend module provides a simple and streamlined screen for GoldMine users to assemble their mass mailing. Email addresses that are flagged as either unsubscribe or undeliverable (hard bounce) from past mailings are automatically excluded as the job is assembled. Scheduling and setting of email volume limits help to control campaign delivery as desired. IntelliSend allows the types of contacts in GoldMine to be included and use of  email merge codes (if desired) further isolates the target audience. Once the mailing is completed, GoldMine is updated with entries in history (if desired) and a notation to the CLICKTRACK tab to confirm which contacts received the mailing. A log of the mailing is maintained and displayed to confirm all steps completed by IntelliSend. If for any reason the mailing fails during transmission, the job can be resumed to send to those who have not yet received the message.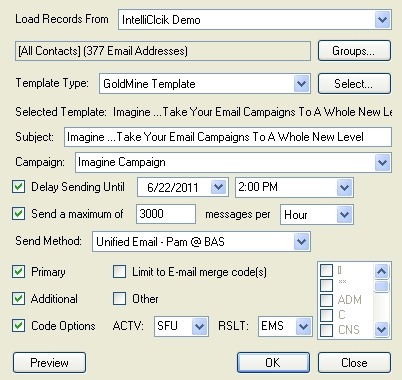 IntelliSend provides easy to use 
bounce management functionality
 to maintain the integrity of the email addresses stored in your GoldMine database. Hard bounce undeliverable messages returned to the GoldMine inbox can be monitored and action taken to update records needing attention. Removal of bad emails can also be automated with a copy of invalid emails stored in GoldMine history for future reference.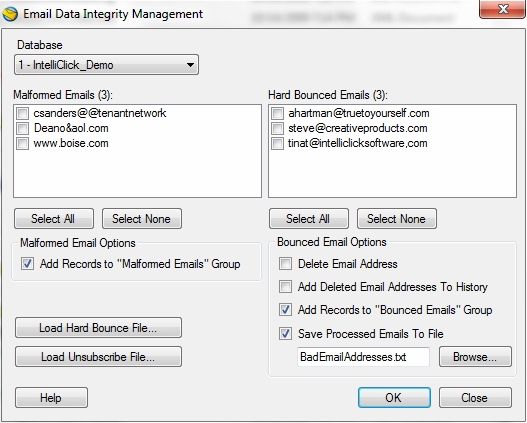 If you have been using other email sending services (i.e. Constant Contact, MailChimp, etc.), you can have email addresses flagged by their system for unsubscribe or undeliverable instantly updated in GoldMine using an Excel or CSV file generated by those providers to update your GoldMine system. This permits a good starting point for campaigns done using IntelliClick as you move forward.
You probably do a good job of managing your day-to-day interaction with customers and prospects within your CRM system. You may also be tracking and measuring your digital marketing campaigns.
The

big question

is what about opportunity gaps for those who show strong interest to your digital marketing; but may not be getting the right level of attention or interaction to capitalize on this interest?
IntelliClick's
Opportunity Gap Scoring
feature helps your company identify
business opportunities
. Prioritize and score your digital marketing tracked in your GoldMine system. Then, match these with scores from the actions logged to the contact history. See which accounts may need or deserve more attention and
optimize the results from your sales team time and effort!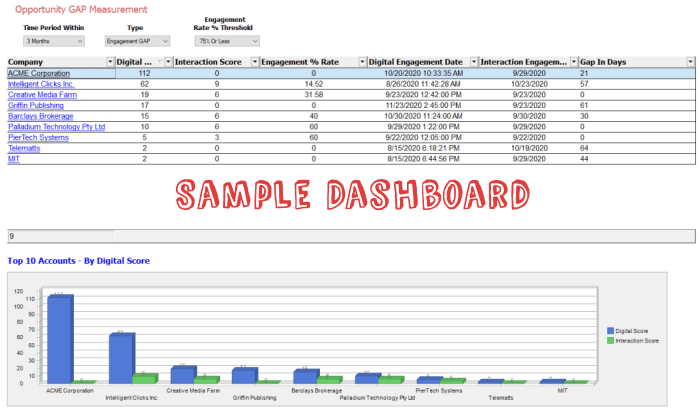 Recorded Webinar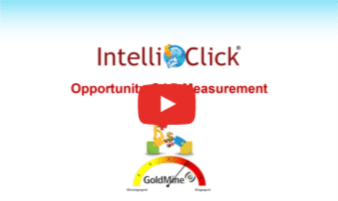 This 30 minute webinar presentation includes highlights of IntelliClick. The Opportunity GAP module is featured as part of this overview.
Module Demo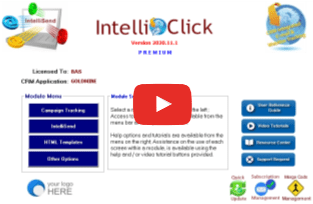 This 7 minute overview video illustrates our digital and interaction scoring modules and how these enable measurement through special reports and dashboards.
GoldMine dashboards and reports which summarize the details of your campaign click track activity, breaking down each campaign and providing metrics to determine which are most effective. Real time information is available on demand or you can have it automatically delivered by email at time intervals and to recipients you designate.  View details by campaign, by web page accessed, and by date and time; with specifics about those who access your pages.  Summaries across all your campaigns provide a snapshot and measurement for any time period you wish to measure.
The IntelliClick GoldMine dashboard provides "real time" statistics on each email campaign and allows you to drill down to the contacts based on their email interaction (Clicks, Opens, Unsubscribe, Web Site Nav).